I 25 years di eBay are a great opportunity to get many quality products at a very affordable price, thanks to discount coupons dedicated to the anniversary. And certainly the products Dyson they are the ones that make the most of the selection. Below we list the best.
eBay 25: here are the best Dyson products on sale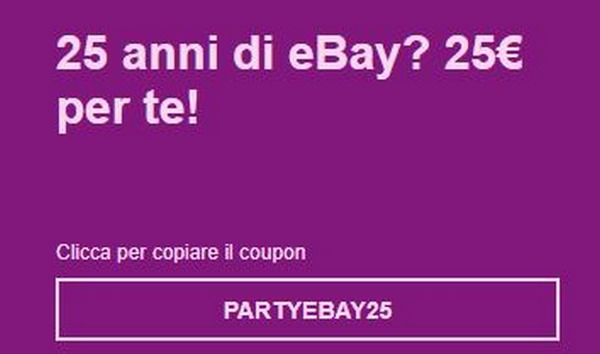 For the product overview Dyson on eBay with Coupon discount, we have selected vacuum cleaner, bladeless fan, hairdryer and hair straightener.
Dyson V7 cordless vacuum cleaner
First on the list is the powerful Dyson V7, a cordless vacuum cleaner that fully incorporates the philosophy of James dyson, thanks to its large autonomy and its digital engine. Instead of the price of 249 €, with theCoupon offer di eBay you just pay for it 224€.
Dyson AM07 bladeless fan - eBay 25 year coupon
After the vacuum cleaner, let's now move on to one of the most popular and imitated products of the American inventor, the bladeless fan Dyson AM07, that with the discount you will always find it at your convenience price di 224€ instead of the 249€ of price list.
Dyson Supersonic HD01 hairdryer
From products for the home to those for the person, with the iconic Dyson Supersonic HD01 hair dryer da 1600W, which instead of 330€ usual, comes to 305€ thanks to the eBay discount.
Dyson Correale hair straightener - eBay Coupon 25 years
We close the product carousel with the innovative Dyson Correale hair straightener, with very advanced plating technology, which reduce by more than 100% hair damage. With the Coupon you can buy it at 465€ instead of the usual € 490.